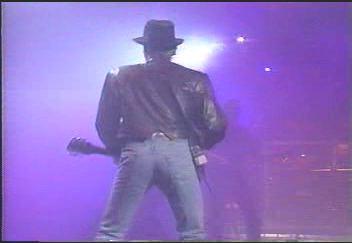 Maurice's On-Line Chat -
Ticketmaster

This on-line chat between Maurice Gibb and the fans took place on October 13, 1997, in connection with the Bee Gees' promotion of their Las Vegas "One Night Only" show on November 14, 1997. While the answers are headed with "The Bee Gees say:", only Maurice was present for the chat.


The Bee Gees say: Hi there this is Maurice, great being online. Looking forward to all the questions. I'll lie through my teeth!
From BeeGsNo1@aol.com: Hey Barry, Maurice, and Robin! By the way, I love you guys and your music. I just wanted to ask if the Vegas show will be the only live show you guys will be doing in the U.S.? I'm only 14, and I hope to have the chance to see the Bee Gees live! :o) God bless! Heather

The Bee Gees say: The Vegas show will be one of several special events that we'll be doing worldwide. At the beginning of the new year we hope to be doing Madison Square Garden in New York and Miami Arena. But like you I would like to do more as well.

From maurice@geffen.com: Who are your fav current bands?

The Bee Gees say: The Beatles, Wallflowers and Celine Dion and most harmony groups which unfortunately aren't too many about.

From Keith Handley: On the website of the Isle of Man Visitors Club the idea has been suggested that a Bee Gees Museum could be setup on the Isle of Man as you were all born on the Isle of Man. Such a place could be a place of music and fun and would be a fine indoor attraction for the island bringing your fans to the island from all over the world. A similar museum exists in Canada for Anne Murray. The IOMVC are just a group of ordinary people worldwide who enjoy visiting the IOM and wish to encourage other to enjoy the IOM. If a Bee Gees museum was set up, would you give the project your backing, and would you lend it some Bee Gees Memorabilia ?.

The Bee Gees say: It has been mentioned to us by the parliament of the Isle of Man. We think it's a wonderful idea and we do call it home.

From oldecalico@rocketmail.com: Did any of you meet or know Elvis.

The Bee Gees say: I'm the only one who met them. I was in Vegas with my first wife Lulu, and Tom Jones invited us to go and see Elvis at the Hilton Naturally I said, "yes." We went backstage after the show and I remember it like I was meeting God and he shook my hand and said Hi and had no idea what I did. But the following day I learned later that Joe Espisito, Elvis's asst. manager told him who I was and he said "Words" was one of the most beautiful songs ever written an he wanted to meet me again.

From tbridge@worldnet.att.net: Hi, guys! Terri Bridge of the Bee Gees Fan Club here. Hope the Europe trip goes great, and to see you all when you get back! My question is for Mo--please, tell us all that at least one of the songs in the set list for Las Vegas features you singing lead. Yes??? (I won't even ask which song(s)!)

The Bee Gees say: NO! Hi Terri, the list is changing as we speak to make it a bit tighter they'll be quite a few songs we haven't performed in the show and the sooner we get closer to the date we'll organize the set list to go on the page. Thanks for asking.

From mr.macphisto@mailexcite.com: What is the band's favorite song?

The Bee Gees say: On stage playing would be "How Deep is Your Love."

From kgray@deltanet.com: Hi guys! Can you give us a little preview or hint of what we might see and hear at the concert in Vegas?

The Bee Gees say: Once again, the songs which we have never performed on stage before, but I don't want to give too much away. I rather it be more of a surprise. But too be honest the set list is still being discussed.

From Gibson819@aol.com: Hi and thank you for being here tonight. My name is Margarita and I want you to know that your music has meant everything to me over these past 25 years. I would like to know how are the leading vocals are determined for each song that is recorded?

The Bee Gees say: Hi Margarita, to simplify that answer the voices are like instruments of the songs we write. Most emotions and heartfelt feelings is part of the total quality of each brothers voice. We will just sing it together and the voice that suits that song will emerge from that or we just say, "You sing it."

From MsMilliee@aol.com: Any chance more Storytellers CDs will be released?

The Bee Gees say: The storytellers series we believe is being released on CD. As soon as we have more details, we'll get that info for you.

From goodwidj@flyernet.udayton.edu: Hi to all the Bee Gees!! I don't have a question, but I wanted to congratulate you on your wonderful new album. Thanks for many years of great music.

The Bee Gees say: Thank you for that wonderful comment.

From MsMilliee@aol.com: Does Maurice not like to sing lead? He doesn't very often but has a beautiful voice.

The Bee Gees say: I love to sing lead but I love to put my energy into harmony and arranging the music to the melodies that I write with my brothers. I get a lot of satisfaction out of that.

From jjarvis@kear.tds.net: Who sings lead on Daytime Girl?

The Bee Gees say: That's Barry and I. But the majority of the songs are the three of us. Thanks for bringing back the memories.

From jmckenzi@highlander.cbnet.ns.ca: I have been enjoying the Bee Gees music for over 30 years now and it just keeps getting better with each new release. My children were brought up listening to your music and now my two grand-daughters know the Bee Gees when they hear a song being played. Do you have any plans for future releases as yet?

The Bee Gees say: So far there is talk on releasing a live album of the show in Vegas, which will be a "Best of Live." The show will be recorded as well as for HBO. We have hired the best recording equipment to make sure its beautifully recorded. Planning to go into the studio next year to start on thr next album next year. We are also going to work with other artists but I can't mention that yet.

From Keith Handley: Do you consider yourselves to be Manx ?.

The Bee Gees say: Yes I regard myself as a manx cat, except I have tail.

From CREMSIN: Do you resent the disco tag you received after the SNF soundtrack's anazing success?

The Bee Gees say: Not at all. It was one of the most wonderful experiences of our career. To be resentful of something so successful would just be childish.

From PamJH1@aol.com: I know one of Robin's interests is history. What about you Mo? What hobbies do you enjoy?

The Bee Gees say: All of us adore history wherever we go we try to visit and relive historical moment of those countries. My favorite hobby is photography and computers and I can use them both when I go to these places.

From SEAGLE5369.@AOL.COM: When are you going to reissue some of the albums that are now out of print, ie. ESP, Horizontal...etc

The Bee Gees say: As far as we know, most countries in Europe with the issue of the new album have reissued past albums including "the best of." In US with the Anniversary of SNF coming out in DEC. we hear talk of a remaster of the film and CD will be issued. Other than that I can't tell you anything at all.

From BGsMelody@hotmail.com: Are you planning any upcoming tv appearances? I had heard you may host Sat. Night Live

The Bee Gees say: Saturday Night Live has been left open at the moment due to the PPV/HBO Vegas show. But SNL should be in the near future.

From parks2@enter.net: Hi! I wanted to know if there is anything you regret not being able to accomplish as far as your career is concerned?

The Bee Gees say: I believe things even in life happen for a reason. One thing even as kids we always dreamed of earning an Oscar. Unfortunatley during the Fever days pop music was not regarded as credible Oscar material. But on the bright side Fever opened the door to popular music. Hence the following year "Flashdance" won.

From feltix@msn.com: Do the brothers ever read the entries on the guestbook on The Official Bee Gees Homepage?? You guys are the best!!!

The Bee Gees say: Yes, I do particularly because I'm the only one who know how to use the computer and relay it to my brothers. You have to remember my brothers VCR's flash 12.

From MIKE_STRACK@WILLBROS.COM: Would you guys consider doing a country album? I am not a big country fan but the country songs you did in the past are good stuff.

The Bee Gees say: Hopefully in the future there will be demos that you can hear in the original form. We love and have been influenced by many country artists particularly Roy Orbison.

From alternet@netvision.net.il: I've heared that you've been to Israel on the early 70's. Is it true, and if it is, how did you like the place?

The Bee Gees say: I personally went personnally to Isreal with Richard Harris while he was making a picture called "Bloomfield." Its about an aging Israeli football player. Richard had asked me to write the theme song and half the score so I spent 2 wonderful weeks drunk as a skunk.

From BHanson@khou.com: What exactly is IN Mrs. Gillespie's Refrigerator?

The Bee Gees say: Well, we were in our Beatles days and Robin came up with this name. We also wrote another song "Red Chair Fadeaway." This was on our Horizontal album such as "Lemons Never Fade Away. It was a fictitional story about this wonderful womans refrigerator.

Congratulations and greetings to

Lynette Elliott of Fort Thomas, Kentucky,

Heather Branson of Melbourne, Florida and

Vicki Drake of Vancouver, Washington.

They've won really unique, valuable, kinda personalized Bee Gees stuff that's so neat we can't even tel you about it yet! All that and a groovy black Ticketmaster Multimedia shirt from your friends at All Access.

The Bee Gees say: I have to dash now I have to go the restroom. Thanks for the wonderful experience. I hope we can do it again soon. Thank you all very much. Love you Moby.


MSN Chat with Maurice Gibb - May 16th 2001
Sysop_MSNLive : Welcome to MSN Live! Tonight we are pleased to present the Bee Gees, the best selling trio in music history. Their latest CD is "This is Where I Came In." Please join us in welcoming the Bee Gees to MSN Live!

The_Bee_Gees_Live : Hi to everybody, it's great to be on the web! It's a great way to get closer to our fans and I appreciate the opportunity to do that.

Sysop_MSNLive : OldDustyOne Asks: Is it still as much of a rush to perform today as it was in the past?

The_Bee_Gees_Live : I think it's more, today it's more incredible to have achieved what we have and have a new song from the CD on stage is an incredible buzz. And to hear a song on the radio is an incredible high. You never stop getting that.

Sysop_MSNLive : barrysonlygirl Asks: Who sings the low parts at the end of the song Anything for You??

The_Bee_Gees_Live : (laughs) That is a bit of me, I'm doing an octive lower and we slowed the tape down and was able to go lower.

Sysop_MSNLive : NewMexico_BeeGeesfan Asks: I know a couple that will use wedding day in their wedding. To whom was Wedding Day written for? The Story Please.

The_Bee_Gees_Live : Tricks of the trade, not a Beatles trick, but it'll do. (laughs)

The_Bee_Gees_Live : "Wedding Day" is a song of what it says, we tried to do it in a subtle way in getting married, but it came out to represent love, whether you are going to be married or not, if you're in love, you will stay together.

Sysop_MSNLive : kirbikalli Asks: How is Mom? We saw her on Biography. She looked wonderful!

The_Bee_Gees_Live : Mom is like an ox. (laughs) She's one of the strongest ladies I've known. She's always been there and we've been her little chicks, and always made sure Mum had a great life and we're just blessed that she's still with us.

Sysop_MSNLive : Joe Joe Asks: What is your favorite album that another artist has done?

The_Bee_Gees_Live : I think even with the recent resurge of the Beatles, "Sergent Pepper" will always be my favorite. I had an Oasis album that I liked, I also liked Marvin Gay's "I Heard it Through the Grape Vine."

Sysop_MSNLive : OwnsRobinsU Asks: What will the second single be

Sysop_MSNLive : ?

The_Bee_Gees_Live : I did his last interview with him, he always tried to be an English gentleman he would have loved to have been British. (laughs)

The_Bee_Gees_Live : We're still tossing it around right now but it looks to me it could be "Wedding Day.

Sysop_MSNLive : BellBaby154 Asks: I think you're all aging very well. What do you enjoy doing when you're not working on your music ?

The_Bee_Gees_Live : For me, my sport is paintball. I have my own team the Royal Rat Rangers, we're the #1 combat team right now. I love playing soldier for a day, it's a great workout, stress reliever, and I get to splat my mates! (laughs) I would like to build my own complex.

Sysop_MSNLive : Rose37 Asks: Do any of the brothers have children that have gone into the music business and do they discourage it ?

The_Bee_Gees_Live : Actually my 2 children are in the business, they write songs together, my daughter is the lead singer of Skyllya, and will be launching soon, so watch for them. Barry's kids are getting into it too. Right now my kids are at the age, and we don't discourage it.

Sysop_MSNLive : Charlotte Asks: Hi Beegees, I really love all of you guys. I was wondering if there is a story behind the amazing song "Bodyguard"

The_Bee_Gees_Live : No, we just wanted to be volgure and dirty. (laughs) It's basically protecting the one you love because the girl in the story, everyone else is closer to her but him, and we had relationships like that and wanted to go more R&B and I love it. It was our first CD video.

Sysop_MSNLive : Fanny51065 Asks: Do you think that if your music wasn't part of SNF, it would have been the success it was? Or, do you feel it was your music that made the movie what it was?

The_Bee_Gees_Live : I think SNF was a great combination of movie and music, one couldn't be a success without another. This was one film that was shot to the music, kind of a pre-video. John took advantage of that and directed it that way. Although an Oscar wasn't won, it did make pop more credible for Oscars and that's one thing SNF did do.

Sysop_MSNLive : IrresistibleForce Asks: Hi, Maurice - do you enjoy talking to your fans tonight ? Do you go online often?

The_Bee_Gees_Live : I love to go online often, but AOL keeps throwing me off. I am with MSN now! I was going to go on tonight, but I just got my DSL line and have been having problems.

The_Bee_Gees_Live : Yes, I love going online and I love talking this way because it's a larger way of getting connected on a more human level. I love it.

Sysop_MSNLive : barrysonlygirl Asks: Who influences you the most right now ?

The_Bee_Gees_Live : When we were trying to do the new album we were trying to find our influences over the last 5 decades, we were influenced by The Beatles, who recorded things that weren't normal, you knew what label they were on and who wrote the songs, you never knew that before, I thought Elvis wrote all his own songs. Lots of great people, lots of different

The_Bee_Gees_Live : influences in different ways. Music we were influenced by everything.

Sysop_MSNLive : Manolis_Varnasactor1 Asks: Hi you are a great band what inspired you to come up with a new album and how do you describe it

The_Bee_Gees_Live : The new album represents 5 decades of influences. We approached this album like the 60's off one mic, so if you see the film "Help" where The Beatles recorded, it's like that. We had self expression and this one has probably been the most fun.

Sysop_MSNLive : No1bgfan Asks: I just finished the group's biography & thought it was great. Did you write any chapters yourself?

The_Bee_Gees_Live : No, we had nothing to do with the writing, we supplied the material, old tapes, movies. What we did was make the music instead of using outside sources, but other than that, we didn't have anything to do with the actual production of it.

Sysop_MSNLive : old_dude_rockin Asks: when i was stationed in japan back in the early 70's (US Navy) I got a Japanese Album that had you guys singing alot of Beatles songs....i remember "Paperback Writer" was one. Did you ever release songs you sang by other artists?

The_Bee_Gees_Live : Yes, that album was called "Inception and Nastalgia" and were were having fun in a butcher shop and this man came across some backtracks of TV. Songs like "Somewhere" from "West Side Story" and we decided to do some of those and some Beatles stuff, and for some reason the tapes got out and ended up on that album only in Australia. We never gave

The_Bee_Gees_Live : permission for them to be released, but it was fun though.

Sysop_MSNLive : HeleninCali says: Has there been an "It" moment in your life ?

The_Bee_Gees_Live : I don't think we've had it yet. Someone asked "what's the best album you've made"? And I don't think we've done it yet. We love writing songs, and that incredible peak can happen in so many ways, personal, career, the peak that people can reach is to be happy with yourself, because without that, success is nothing.

Sysop_MSNLive : Jungleride Asks: Do you still miss your brother Andy ?

The_Bee_Gees_Live : Andy is still with us, that's the only way I can explain it. Things have

happened since he passed to prove he is with us, and true or not, I'd like to believe it. It

was a great loss, and being a younger brother, it's a different kind of learning experience,

but he didn't have to die and that's the shame of it. These things happen for a reason, my

The_Bee_Gees_Live : dad is with him and I know they are happy. My father literally passed away when Andy passed away.

Sysop_MSNLive : ceige_0 Asks: HI guys, great to be able to talk to you. The new CD is great! My wife and I have grown up listening to your all your music! She loves Mr. Natural, What inspired the song "Dogs"?

The_Bee_Gees_Live : I accept the fact that he's with us, I've had too many experiences.

The_Bee_Gees_Live : To be perfectly honest, I have no bloody idea.

The_Bee_Gees_Live : I think there was too much stuff going around. (laughs!!!!) That was our rehabilitation days.

Sysop_MSNLive : Marco Asks: do you feel that your music style is changing over the years ?

The_Bee_Gees_Live : I believe our roots are still there in R&B we've been called "Blue Eyed Soul." It's just labels though, I think technology has changed, different sounds and feels, but if you can play it on an acustic guitar and love it, you know it'll be good. And hopefully 20 years down the road someone else will have success playing it again. If you really want

The_Bee_Gees_Live : this success you can have it, you just have to believe.

Sysop_MSNLive : I totally agree....

Sysop_MSNLive : Alana26 Asks: Who is responsible for the really neat special effects sounds, like the bat wings flapping in "Haunted House" and the phone ringing in "Alone"?

The_Bee_Gees_Live : That was me and John Merchant, we did most of the stuff in "Haunted House." The phone ringing was from an old melodrama. People used to put these things on records and no one knew what they were. We put a whole course of bagpipes on one record and no one was doing that, we wanted to be different and that was.

Sysop_MSNLive : KayPossum Asks: What's the story behind "Technicolor Dreams?"

The_Bee_Gees_Live : It was one of Barry's songs he went off to do. He came up with it, out the window of the studio was a play studio and he just started singing it, and it's one song on the album that's different from the rest, he sang it with a 30's feel. One reason it went on was because it was so different and to show each brother's creative nonsense.

Sysop_MSNLive : walk1moremile Asks: Dear Brothers, Do you remember the days when your Father discovered you? I read long ago that you were harmonizing in the bedroom, and your Father heard you and was very surprised to discover that the sounds were not coming from the radio, but from you.

The_Bee_Gees_Live : (laughs) He actually walked into our room and said "turn that bloody radio off!!!" And he realized it wasn't the radio and said "oh! It's you kids, shut up!" (laughs)

Sysop_MSNLive : bgmbrme Asks: what do each of you do to "chill out". i sit by my pond and watch the animals.

The_Bee_Gees_Live : I sit in the pond. (laughs!!!) No, my favorite fun thing is paintball. I also like to meditate for 2 hours a day, just appreciating myself and being alone. I'm also in AA and make those meetings and help other people. I have to admit, I just LOVE my paintball.

Sysop_MSNLive : Bgmbrme Asks: since you have all" been around the world" where do you think is the most beautiful ?

The_Bee_Gees_Live : I must say I do love the Bahamas as an escape, we have a house there, my wife and I. I like the tropical life, but I love England too, and also Australia. We're Mangst, a little island from the Island of Man. Also England, Australian, and US upbringing, so it was a mix.

Sysop_MSNLive : NJ_Brit32 Asks: As a Brit living in the US I miss good old English Fish and Chips. What do you miss most about not living in England?

The_Bee_Gees_Live : Oh God YES! Fish and chips! There's nothing like a newspaper wrapped fish and chips with salt and vinegar.

Sysop_MSNLive : Zipy-Ola Asks: What's their impressions of common people doing their songs in karaoke? For myself, I sing "You Should Be Dancing", "Staying Alive" & "How Deep Is Your Love?" most of the nights I go out...

The_Bee_Gees_Live : Well I must admit, Karaoke is a great giggle. We don't take offense by people singing the songs, we're songwriters and people that want to sing our songs, is a compliment. Music shouldn't be taken too seriously

Sysop_MSNLive : Getting back to Andy...Ogcap Asks: do you plan on releasing any of Andy's unreleased recordings?

The_Bee_Gees_Live : There are discussions going on right now about a new anthology to come out next year. The plan is in motion right now and hopefully it will be a beautiful package and we'll keep you posted about it.

Sysop_MSNLive : queenbee1941 Asks: which one of you wrote my favorite bee gees song 1941 New York mining disaster?

The_Bee_Gees_Live : That was in 1967, and we were doing a demo in London, and we went in to do something and there was a power outage and we sat by the elevator, it was like being in a mine, with this great echo. It was influenced by a recent disaster in Whales where there was a landslide and it covered a school and killed some people. Then we found out there was a

The_Bee_Gees_Live : disaster in the U.S.

Sysop_MSNLive : Thanks for your time tonight...you guys have been great! I understand that you need to run...thanks for everything...any last comment ?

The_Bee_Gees_Live : What fun it's been! I love doing this, I hope I can do more in the future. To be in touch with you has been a pleasure, thanks for a great time!!

Sysop_MSNLive : Thanks Guys! We love you all

MSNLive_Bot : The preceding is ( c ) 2001 MSN Live Thanks to our guest, hosts and to everyone that came to today's chat! Please remember that due to the number of questions received, it was not possible for our guest to answer each one individually. Thanks for coming to MSNLive!

Sysop_MSNLive : Thanks to the Bee Gee's they were great tonight!


These chat transcripts are here courtesy of Terri Bridge, President of the Bee Gees Fan Club. You can find a link to her site on the links page. Thank you Terri.